Membership and program registration for the 2020-2021 ski season is now open.
Please visit the Rates page and click any of the 'Buy Now' links to proceed to the Zone4 registration page.
UPDATE: the issue has been fixed and registration has been reset to open on Sunday, November 1 at 8:00 am. We do apologize for the inconvenience. The issue was with the integration with our payment processor and not an issue with the Zone4 system. Thank you to Dan at Zone4 for helping to fix this issue so promptly today.
Original message:
We're experiencing an error with the payment processing in our registration system so have closed registration while we fix the issue.
No registrations or payments have been completed due to this error.
We apologize for the inconvenience and frustration.
Youth Programs including Bunnyrabbits, Jackrabbits, Jack Attack, and Track Attack focus on skills and fun! For children from age 4 to 12, these programs are scheduled for 8 weeks in January and February on Saturdays.
New this year: to reduce crowding morning (10am to noon) and afternoon (1-3pm) sessions will be offered for Bunnyrabbits, Jackrabbits and Track Attack. The Jack Attack program will run only in the afternoon (1-3pm)
The main focus of all our youth lessons is fun on the snow. Within each program we aim to address the needs of beginner and experienced skiers, sometimes in separate groups.
Please check your email for more details from the Communications and Volunteer Coordinator.
For more information check out our programs online or take a look at our Youth Program Handbook.
Be sure to review the Covid-19 protocols for this ski season in the Return-to-Sport plan before you register and before each session.
In the fall of 2020, logging will be occurring on some parts of the crown land that our ski trails pass through north of the KNSC property. This logging is not being done by Kawartha Nordic, but rather by a forest company under a forest management plan for crown land approved by the Ministry of Natural Resources and Forestry. The enclosed map shows the approximate location of the logging operations, none of which are on Kawartha Nordic owned property.
The logging will be completed before winter so will not interrupt our ski season.
If you are at the club this fall helping with trail work and fall maintenance, for your own safety please avoid using the Beaver and Trillium trails as well as the shaded areas on the map. Logging trucks may be using these trails as well as exiting to Highway 28 through our parking lot.
Please see the September newsletter for more details.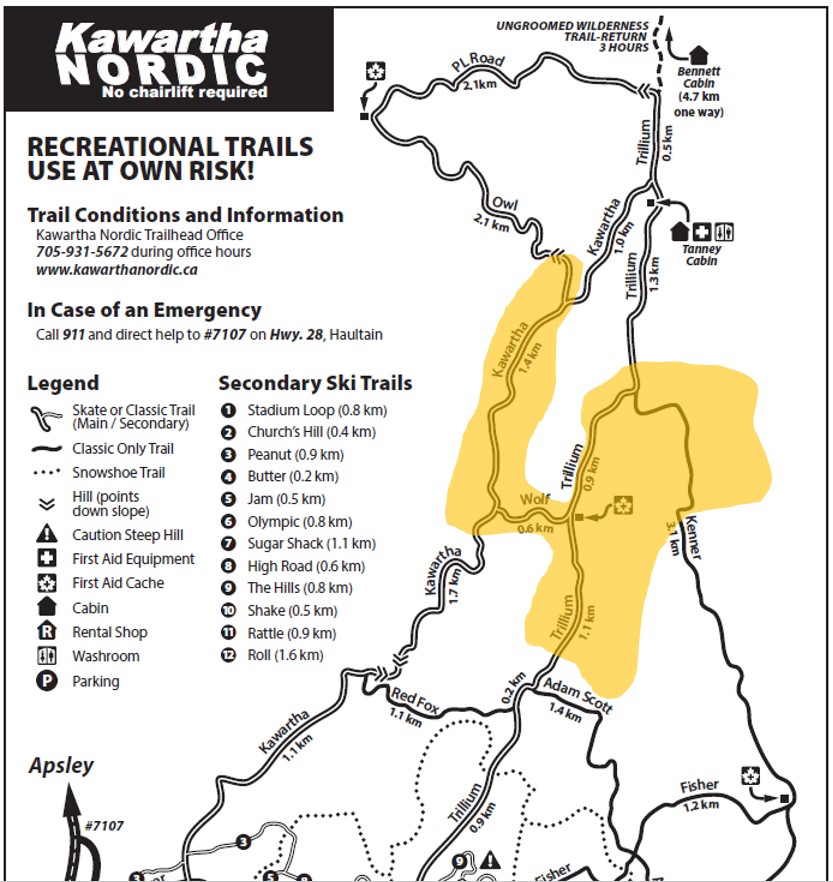 Kawartha Nordic is hosting two weekends (Oct 24th, 25th and Oct 31st, Nov 1st) of volunteer fall work to help ready the site for opening. The tasks below will be outlined on a whiteboard outside the Rental Trailer for sign-in as well as work completion information.
Firewood needs to be cut, chopped, split and dispersed to piles; Trails need to be cleared of debris and deadfall, and trimmed back; The upstairs wooden tables in the Woodfine Lodge need to be dismantled and moved, along with the chairs, to the white storage trailer out front of the washrooms (this trailer could first use some organization); The wax trailer interior needs cleaning out and the exterior could use a scrubbing.
And more to come!
Bring your boots, masks, loppers, gloves, clippers, axes... and dress to get dirty. Do what you can. Every bit helps.
Please practice social distancing and wear a mask when inside buildings or working closely with others. Hand sanitizer will be available outside the upper and lower entrances to the lodge and bathrooms. Please limit time spent inside buildings and adhere to allowable maximum capacity signs.
NOTE: please do not use the Beaver and Trillium trails for your own safety. Logging trucks may be using these trails this fall. Please see more information here.
We are looking for 3 dynamic and experienced individuals to lead each of our Bunnyrabbit, Jackrabbit, and Track Attack programs. The role isn't much different than our standard program coach, but you would be willing to mentor newer coaches, by answering questions and helping other coaches design their daily program. The Communications & Volunteer Coordinator would be handling many of the logistics around our programs, such as group assignments, registration, and volunteer coach recruitment, allowing the lead coaches to focus on the program, the other coaches, and the athletes.
Check out the full Lead Coach job description for more details.
KN is still looking to also fill the following positions:
The Annual General Meeting of the members of the KAWARTHA NORDIC SKI CLUB, INCORPORATED will be held on Monday November 9, 2020 from 7:00 pm to 8:00 pm. In addition to the electing our directors and receiving the annual and financial report, come on out to hear about the modifications to our programs and services this year.
Nominations for Directors may be made in writing and filed with the Secretary seven (7) days prior to the Annual General Meeting. All members in good standing, 16 years or over, are eligible to vote. Nominations may be sent to Kawartha Nordic Ski Club Inc., PO Box 1371, Peterborough ON, K9J 7H6 or membership@kawarthanordic.ca.
Location: Virtual (details to be emailed to eligible members)
Date: Monday, November 9, 2020
Time: 7:00pm
Membership and youth program registration will open soon! Opens Oct 31 at 7am
We are busy preparing our Covid-19 plan and need a little more time beyond our normal Oct 1 registration opening date to ensure safe and fun programs this winter. Follow Facebook, Twitter, or our website for details of online registration. Past members will also receive an email with all of the details you need to know to get signed up for this coming ski season.
Registration is completed online using our partner Zone4. Follow the links on the membership or youth programs pages.