Enjoy these Kawartha Nature Notes to increase your awareness of the natural heritage features of the area traversed by the Kawartha Nordic Ski Club trails. Thanks to club member Mike McMurtry for this informative and interesting piece. Also posted in the cabins for your reading pleasure.
Thanks to the snow we received this week and the hard work of our grooming team, the Youth programs will be held at Kawartha Nordic on Saturday, Feb 3 !! Track Attack and Learn to Train 12-2pm and Bunnyrabbits, Jackrabbits and Jack Attack 1-3pm. See you then!
Big congratulations are in order for the six Kawartha Nordic athletes who qualified this past weekend for the Ontario Winter Games! Their performances this past weekend at the Ontario Cup events in Sudbury earned them the unique opportunity to compete in the Ontario Winter Games at Horseshoe Valley February 28 to March 1. Congratulations to Anna DeLeenheer, Anna Harris, Allison Westbroek, Ali Jones, Isaac Fortin, and Jake Douglas.
Join fellow skiers for a moonlight ski. Jan 31 is the snow moon (normally in Feb but this year on Jan 31) so what better time to enjoy a nightime ski at Kawartha Nordic. Meet at 7pm at the Woodfine Chalet. The group will plan the route.
Snow in the forecast today so skiing should be improved, but the clouds and snow may hide the moon, so bring your headlamp.
*** The Bennett ski is cancelled given snow conditions...
Do you enjoy backcountry skiing?! Join with fellow classic skiers on March 4 to visit the northermost cabin at Kawartha Nordic. This long ski tour is 22 km return with the first 6km on groomed trails and the next 5km on the ungroomed Bennett wilderness trail (returning via the same route). The reward is some beautiful backcountry skiing and a check on your bucket list! Meet at Woodfine chalet at 10am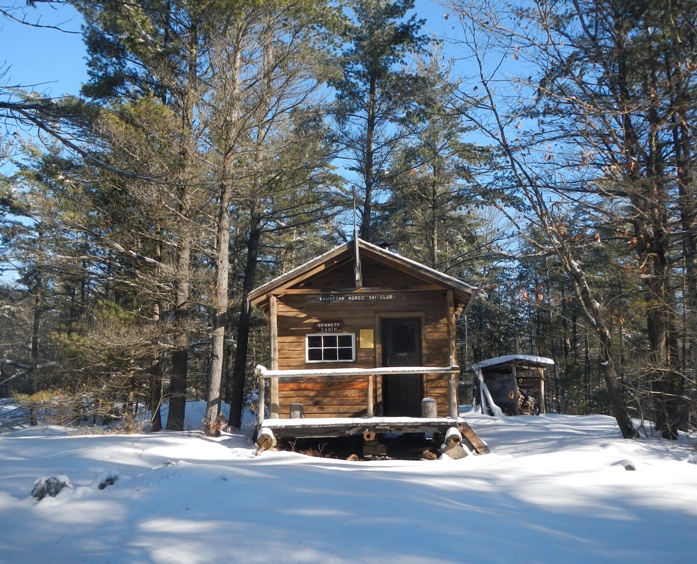 Our rental shop has all the equipment for your skate or classic ski or snowshoe adventure at Kawartha Nordic. Hours and prices posted here.
** Sadly the Double Double is cancelled for 2018. Trails are open but with the thin base along Beaver and lower Trillium and the forecasted freezing rain/rain on Sunday, organizers have decided to cancel the DD this year.
The 2018 Double Double will be held on Sunday, February 25, 2018. Come challenge yourself in the Kawartha Nordic Skiathlon! You set your own goal whether it be the Double-Double or Medium Regular.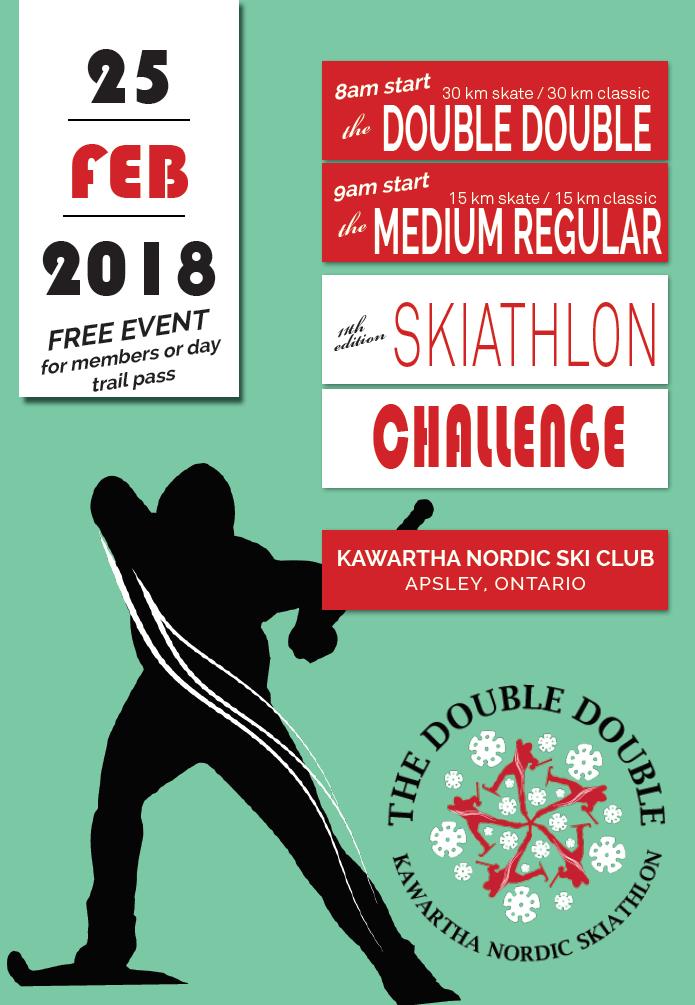 The Kawartha Family Enduro offers 5km, 10km and 20km races in Classic or Free technique for individuals or relay teams on a 5km looped course.
First racers start Saturday 17 February 2018 at 9:00am, and trails are open for public skiing during the race.
For complete details see the Race Notice and Course Maps.