Fall means trail work at Kawartha Nordic! Trail clearing and volunteer weekends will be planned throughout October and November with dates posted to the website. What's involved? Simply hiking the trails, removing branches, sticks and large stones from the trail bed, and cutting back any branches that interfere with safe skiing from the side of the trail. If you come across any large fallen trees send us an email to let us know the location. A volunteer coordinator will be at the Woodfine Chalet at the beginning of the day and will leave instructions for those arriving later in the day

October 22 and 23 between 9am and 3pm
October 30 between 10am and 3pm.
November 6 between 10am and 3pm.
November 13 between 10am and 3pm.
No need to RSVP, just try to make it up when you can. Please bring work gloves, work boots/ footwear, snacks and drinks, loppers, handsaws, trimmers or any other equipment you might make good use of. And be sure to leave a note on the chalk board of the Woodfine chalet to let us know which trail you've worked on (latest photo below).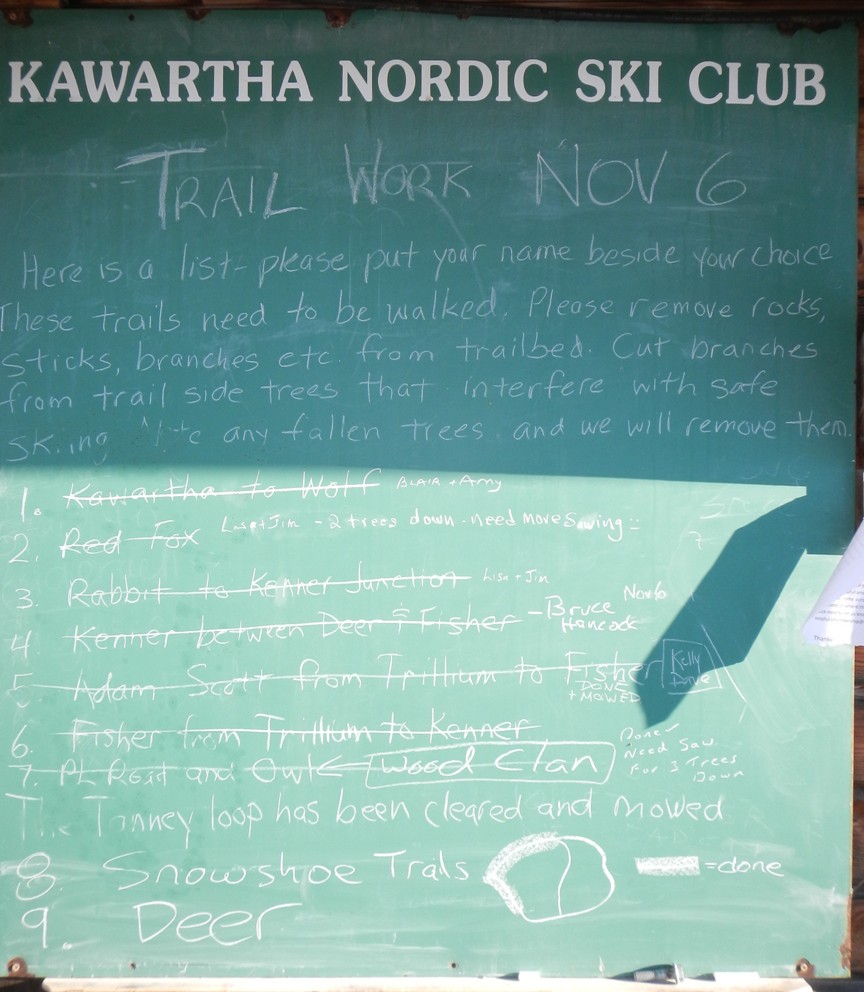 We're very excited to be offering Kawartha Nordic clothing sales this fall in partnership with Peterborough Northern Designs (Flavour Fashion). Proceeds will go to support club operations and programming. Orders will be taken for a limited time only until October 23, 2016. Check out the great line-up of high quality tee-shirts, women's tee-shirts, long sleeve shirts, and hooded sweaters in the online catalogue and then order them online. Pre-orders submitted before Oct 23rd will be ready by mid-December just in time for holiday gifts!
read more
Season pass sales and ski program registration are now open for Kawartha Nordic's 2016-2017 ski season via our online partner zone4.ca
Our updated rates for 2016-17 do not include HST nor the mandatory additional memberships for Cross Country Ontario (CCO), CCO Southern Ontario Division (CCO SOD), and Cross Country Canada (CCC). These will be added to your registration automatically.
read more
Good luck to Kawartha Nordic member Geoff Way-Nee who is competing this week at the 2016 Haywood Ski Nationals in Whitehorse with the best skiers in the country! Geoff now skis with Lakehead University after working his way through Jackrabbits, Track Attack and the Athlete Development Program.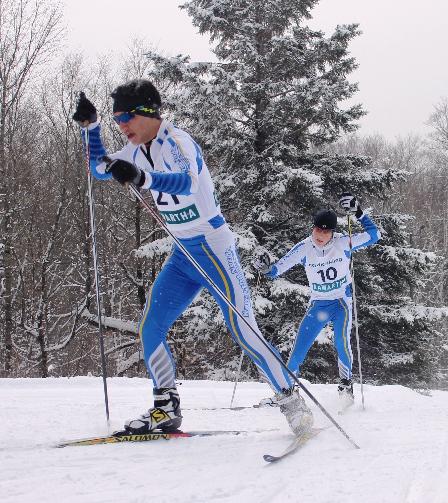 read more
Check out the flickr feed of photos from the 2016 Ontario Midget Championships.
Thank you for attending the Ontario Midget Championships 2016 at Kawartha Nordic. We hope you enjoyed your weekend as much as we enjoyed hosting you.
CTV aired a spot on our Championships on the Saturday CTV News at 6. The segment is at about 34:15.
Results
We had two instances that required a review of the video to be sure of results in Sunday's Mass Start races. Check out the video evidence below.
read more
Sunday's event schedule has been adjusted to try and stay ahead of the warm weather forecast for the day, and allow everyone a good opportunity to participate.
9:30am Midget Boys 4.4km Freestyle Mass Start
9:45am Midget Girls 4.4km Freestyle Mass Start
10:05am Peewee Boys 3.1km Freestyle Mass Start
10:20am Peewee Girls 3.1km Freestyle Mass Start
We will endeavour to have our lunch service start earlier (hopefully at 10:30am)
The 4x60m Team Sprints will begin at 11:30am and follow the same order as the Mass Start event.
Please note that the pre-ski with Perianne Jones has been cancelled to allow coaches to work with their athletes pre-race despite the shortened schedule.
Immediately following the final sprint, we will hold our awards ceremony including
Mass Start Awards
Team Sprint Awards
Technique Awards
Team Awards
Thank you for your understanding and flexibility.
Most trails will remain open this weekend for members and day skiers while the Ontario Midget Championships are being held. Come on out for a ski and cheer on skiers from across the province! There are however some trail closures for the race course on the Butter, Beaver, Sugar Shack, and Rabbit. The area in front of the Woodfine Chalet will also be closed for the race stadium (start/finish). Access to the trails is via Kawartha. Please see the attached map for details: Map of trail status
Parking will also be very limited this weekend. There is offsite parking available at the North Kawartha Community Centre (NKCC) in Apsley with a shuttle bus to Kawartha Nordic. You may drop off gear and skiers at the trailhead and then make your way to NKCC and return via the shuttle. Signs will be posted including the shuttle driver's cell phone. The drive from NKCC to Kawartha Nordic is approximately 10 min so please plan your time accordingly.