This year's Double Double is on Sunday, March 3 (or Medium Regular or whatever you make it). Come on out!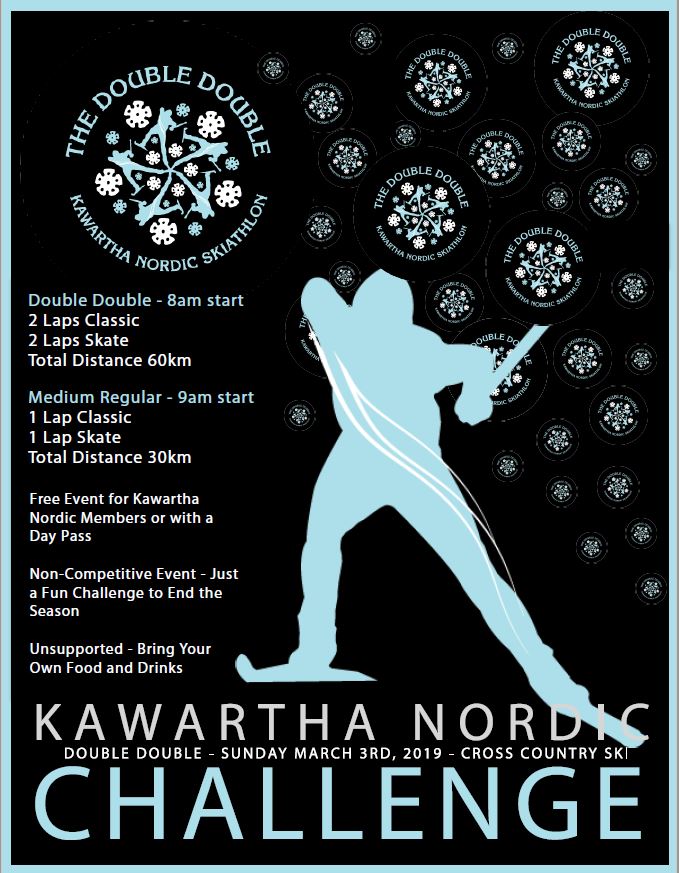 The local high school Nordic ski racing teams will be at Kawartha Nordic Wed 9-Jan-2019 for a morning of training together and an afternoon of informal sprint racing.
Kawartha Nordic Youth Programs including Bunnyrabbits, Jackrabbits, Jack Attack and Traack Attack run from 1–3pm on Saturdays in January and February.
For more information check out our programs online or take a look at our Youth Program Handbook
NEW DATE! Please sign-up again for the new date.
The 2019 Kawartha Nordic Skiathlon is in need of some enthusiastic volunteers — no experience necessary! We have lots of success and experience training people to take on the roles required to make this event a success, and most roles only require a few minutes of instruction.
Many of our experienced volunteers are not available for this event, so now is your chance to be part of a new crew. Bring your friends, your neighbours or your work mates, and make it a fun group experience.
Please take a moment to signup online for a shift or two on Saturday 23-Feb-2019 or Sunday 24-Feb-2019. The signup system will allow you to pick the times and roles that work for you.
Classic and skate ski lessons will be offered on Sundays in January and February. Is it time to hone up your skills? Then join a group ski lesson this winter! Book your lesson online or contact us at (705) 931-5672 or knscinstructor@gmaill.com for information on private lessons.
Looking for a gift for that special someone? Gift certificates in any amount are available for purchase online for trail passes, rentals, or lessons.
Purchase your gift certificate today!
Online registration is now open for 2019 adult lessons. Interested in improving your technique? Sign-up for a group lesson on Sundays in January and February for skate or classic technique. Visit the Adult Lessons page for more info and to register.
Bookings for school group visits to Kawartha Nordic are now open for this winter. Please visit the School Groups page for details and to book your visit online.