In the fall of 2020, logging will be occurring on some parts of the crown land that our ski trails pass through north of the KNSC property. This logging is not being done by Kawartha Nordic, but rather by a forest company under a forest management plan for crown land approved by the Ministry of Natural Resources and Forestry. The enclosed map shows the approximate location of the logging operations, none of which are on Kawartha Nordic owned property.
The logging will be completed before winter so will not interrupt our ski season.
If you are at the club this fall helping with trail work and fall maintenance, for your own safety please avoid using the Beaver and Trillium trails as well as the shaded areas on the map. Logging trucks may be using these trails as well as exiting to Highway 28 through our parking lot.
Please see the September newsletter for more details.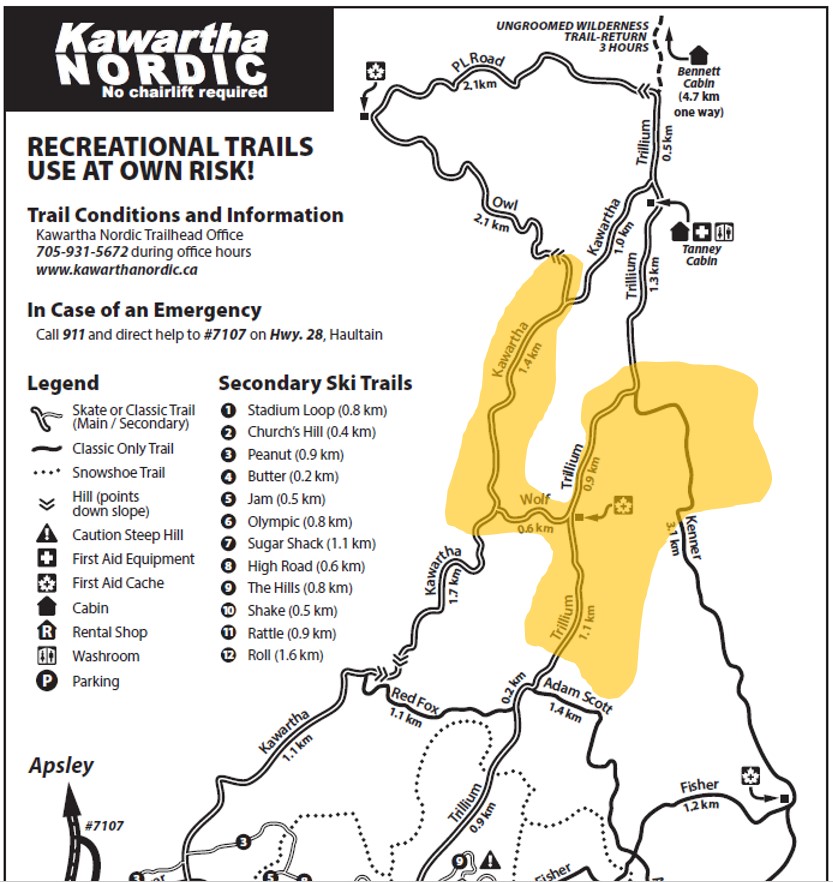 Thank you for your patience, as we coordinate all the details, volunteers, and legislative requirements for our Youth Skill Development Programs.
We are going to go ahead with starting the Jackrabbit, Bunnyrabbit, Track Attack, & Jack Attack programs this Saturday, Feb 20!
Our program will span 4 weeks on Saturdays 20-Feb, 27-Feb, 6-Mar, & 13-Mar.
** Note: due to the Peterborough Public Health moving to the Control (Red) zone, our final session on March 13 is cancelled.
Please take a moment to review a few reminders:
Morning sessions are 10am-noon, except for Bunnyrabbits which are 10am-11am
Afternoon sessions are 1-3pm, except for Bunnyrabbits which are 1-2pm
No buildings will be available, and no snacks/drinks will be served
Sessions may be cancelled due to weather or unsafe ski conditions, or changing pandemic expectations
Please complete the COVID Screening questionnaire with your child before travelling to KN each Saturday
Please ensure your child has gone to the bathroom before joining their group
Skiers will need extra gloves, in case they become contaminated with bodily fluids
All groups need to be kept small and separate, so please drop-off/pick-up your child and quickly move away to make room for other parents to do the same. This will necessitate ensuring each child's equipment is on and they are ready to go, before you approach your child's group
Everyone joining a group or doing a drop-off/pick-up must be masked at that time
To keep groups small, and other groups from forming, please do not linger or socialize in the stadium area before, after, or during sessions
Finally, please review our KN Safe Return-to-Sport plan with your child, so they understand the details of all expectations
read more
We are looking for 3 dynamic and experienced individuals to lead each of our Bunnyrabbit, Jackrabbit, and Track Attack programs. The role isn't much different than our standard program coach, but you would be willing to mentor newer coaches, by answering questions and helping other coaches design their daily program. The Communications & Volunteer Coordinator would be handling many of the logistics around our programs, such as group assignments, registration, and volunteer coach recruitment, allowing the lead coaches to focus on the program, the other coaches, and the athletes.
Check out the full Lead Coach job description for more details.
KN is still looking to also fill the following positions:
The Annual General Meeting of the members of the KAWARTHA NORDIC SKI CLUB, INCORPORATED will be held on Monday November 9, 2020 from 7:00 pm to 8:00 pm. In addition to the electing our directors and receiving the annual and financial report, come on out to hear about the modifications to our programs and services this year.
Nominations for Directors may be made in writing and filed with the Secretary seven (7) days prior to the Annual General Meeting. All members in good standing, 16 years or over, are eligible to vote. Nominations may be sent to Kawartha Nordic Ski Club Inc., PO Box 1371, Peterborough ON, K9J 7H6 or membership@kawarthanordic.ca.
Location: Virtual (details to be emailed to eligible members)
Date: Monday, November 9, 2020
Time: 7:00pm
Membership and youth program registration will open soon! Opens Oct 31 at 7am
We are busy preparing our Covid-19 plan and need a little more time beyond our normal Oct 1 registration opening date to ensure safe and fun programs this winter. Follow Facebook, Twitter, or our website for details of online registration. Past members will also receive an email with all of the details you need to know to get signed up for this coming ski season.
Registration is completed online using our partner Zone4. Follow the links on the membership or youth programs pages.
Kawartha Nordic is looking for candidates to fulfill the following roles for the 2020-2021 ski season.
Details on the positions and information on how to apply can be found in the following job notices:
The end of season sale of the rental equipment at Kawartha Nordic ended when the trails closed in March. There is some equipment that was not sold that will be available at the Wild Rock Outfitters ski swap in the fall 2020. For more information please visit the Wild Rock Outfitters website.
On Saturday March 7th 2020, 2:00pm Kawartha Nordic will be presenting the Fine Art of making Maple Syrup. This fun event will include:
Tapping Sugar Maple Trees
Tasting sap right from the tree
Boiling Sap
Sampling Maple Taffy in the snow
Having fun Outside
You can reach the Sugar Shack by either Snowshoes or Skis and a fire will be going outside under the sap pots and in the Sugar Shack as well.
Everyone is invited!