All visitors, staff, and volunteers must complete the KN COVID-19 Screening Tool online each day before coming to Kawartha Nordic.
If you are unable to use the online tool, please print and use the following screening tool.
Do you have any one of the following new or worsening symptoms or signs, unrelated to chronic or other known causes or conditions? Yes or No

Fever and/or chills
Cough or barking cough
Shortness of breath
Decrease or loss of smell or taste
Sore throat or difficulty swallowing
Runny or stuffy/congested nose
Headache
Nausea, vomiting, and/or diarrhea, or other digestive issues
Extreme tiredness or muscle aches



Are you 18 years of age or older, and have any one of the following new or worsening symptoms or signs, unrelated to chronic or other known causes or conditions? Yes or No

Pink Eye
Falling Down often



Has a doctor, health care provider, or public health unit told you that you should currently be isolating (staying at home)? Yes or No


In the last 14 days, have you been identified as a "close contact" of someone who currently has COVID-19? Yes or No


In the last 14 days, have you received a COVID Alert exposure notification on your cell phone? Yes or No


In the last 14 days, have you or anyone you live with travelled outside of Canada? Yes or No


Is anyone you live with currently experiencing any new COVID-19 symptoms and/or waiting for test results after experiencing symptoms? Yes or No
If you answer yes to any of these 7 questions, please go home to self-isolate immediately and contact your health care provider or Telehealth Ontario (1-866-797-0000) for next steps.
If you answer no to all 7 questions, you are welcome to join us on-site at Kawartha Nordic, subject to our COVID-19 Safety Plan.
Please consult the full text of The Ontario Ministry of Health COVID-19 Screening Tool, if you have questions about the listed symptoms or other aspects of the screening tool.
We are happy to report that Kawartha Nordic will be open during the upcoming Province-wide shutdown. As per the Government of Ontario Announcement, cross country ski trails are a permitted amenity but with restrictions. Throughout the fall, Kawartha Nordic has developed our COVID-19 Safety Plan and implemented protocols and plans to protect staff, volunteers, and users of our facilities. With the announcement of the provincial lockdown, the following adjustments will be necessary:
All programs and events are on hold until after the shutdown, including Youth Programs (Bunnyrabbits, Jackrabbits, Jack Attack, & Track Attack), Team Practices (U12/U14/U16/U18/U20/U23), Private & Group Lessons, Fat Biking Groups, all races, and all social events.
All buildings, cabins, trailers, and tents will be closed to visitors, except for our washroom building which will have a reduced capacity limit.
As a reminder of our COVID-19 Safety Plan, please review the following important protocols:
All visitors to Kawartha Nordic must complete the self-assessment screening questions available on our website before visiting the facility. Signage at the trailhead will remind you of this requirement. Currently, there is no need to submit this questionnaire to Kawartha Nordic. By visiting, you are attesting that you have passed the screening questions.
Trails will be open for skiing and snowshoeing (when conditions permit), but trail users are to stay 2m apart from anyone that does not live in their household.
The Canadian Ski Patrol (CSP) Members will be able to use their treatment room in the Woodfine Chalet to provide services. Trail-side cabins will be available for emergency use only. CSP Members will be following heightened national treatment standards and protocols.
Visitors are not permitted to enter the Rental Shop. All service will be provided through the take-out window. Rental equipment will be available for curbside pickup by appointment only and will be sanitized after each use.
Day passes and season passes will be available for purchase online.
Staff and volunteers will be wearing masks and, if they must come within 2m of anyone, will also wear face shields.
Staff and volunteers will be working to maintain our trails and facilities, to respond to online orders for passes and rental equipment, and to offer assistance when needed during our usual operating hours. However, we would ask that interaction with staff and volunteers be remote (e.g., by phone or email) whenever possible.
When waiting in place (e.g., for rentals, for the washroom, in the parking lot) or when indoors, everyone is to remain 2m apart from those not living in their household and must be wearing a mask (unless they have a specified exception). As a reminder, a ski buff is not a suitable face covering.
As advised in the provincial announcement, we ask that you take advantage of our trails for exercise alone or with members of your household, but that you not hold a gathering or event at KN, and that you not travel from outside our Public Health region to use the KN trails.
We hope to restart our programs once the shutdown ends and resume use of the chalet and cabins — pending government announcements. Please be considerate of these protocols so we can safely enjoy our favourite winter activity.
We are excited to pilot fat biking at Kawartha Nordic as an opportunity for members and day users to extend the winter season, and to experience the outdoors in a new way.
Kawartha Nordic is using this project to gather information on how we may be able to offer this opportunity before making any decisions about fat biking in future years. As a pilot project, the guidelines below may change throughout the year as we try different ideas.
Fat Biking Guidelines
Fat biking is only permitted while accompanied by a guide and while riding with a Wild Rock Outfitters ride group.
Ride groups will be restricted to a maximum of 10 people.
Ride groups will only be operating on Wednesdays and Sundays. Ride guides will assess the trail conditions as well as the daily attendance and will endeavour to use closed and/or quieter trails to minimize impact on skiing.
Ride groups will not use any trail when riding will cause damage to the trail, unless the trail is closed to skiing.
Use of any trail for fat biking must be approved in advance by the General Manager or Facilities Manager.
Bikes must have tires 3.5 inches or wider.
Riders must wear a bike helmet.
Riders are to give right-of-way to skiers and snowshoers.
Riders are to preserve and avoid all trackset.
Riders are required to sign a fat-biking specific waiver before any riding at Kawartha Nordic.
Riders are required to be season or day pass holders.
Lessons will not be available during the provincial shutdown. Further updates will be posted as available.
Classic and skate ski lessons will be offered on Sundays in January and February. Is it time to hone up your skills? Then join a group ski lesson this winter! Book your lesson online or contact us at (705) 931-5672 or knscinstructor@gmaill.com for information on private lessons.
Membership and program registration for the 2020-2021 ski season is now open.
Please visit the Rates page and click any of the 'Buy Now' links to proceed to the Zone4 registration page.
In the fall of 2020, logging will be occurring on some parts of the crown land that our ski trails pass through north of the KNSC property. This logging is not being done by Kawartha Nordic, but rather by a forest company under a forest management plan for crown land approved by the Ministry of Natural Resources and Forestry. The enclosed map shows the approximate location of the logging operations, none of which are on Kawartha Nordic owned property.
The logging will be completed before winter so will not interrupt our ski season.
If you are at the club this fall helping with trail work and fall maintenance, for your own safety please avoid using the Beaver and Trillium trails as well as the shaded areas on the map. Logging trucks may be using these trails as well as exiting to Highway 28 through our parking lot.
Please see the September newsletter for more details.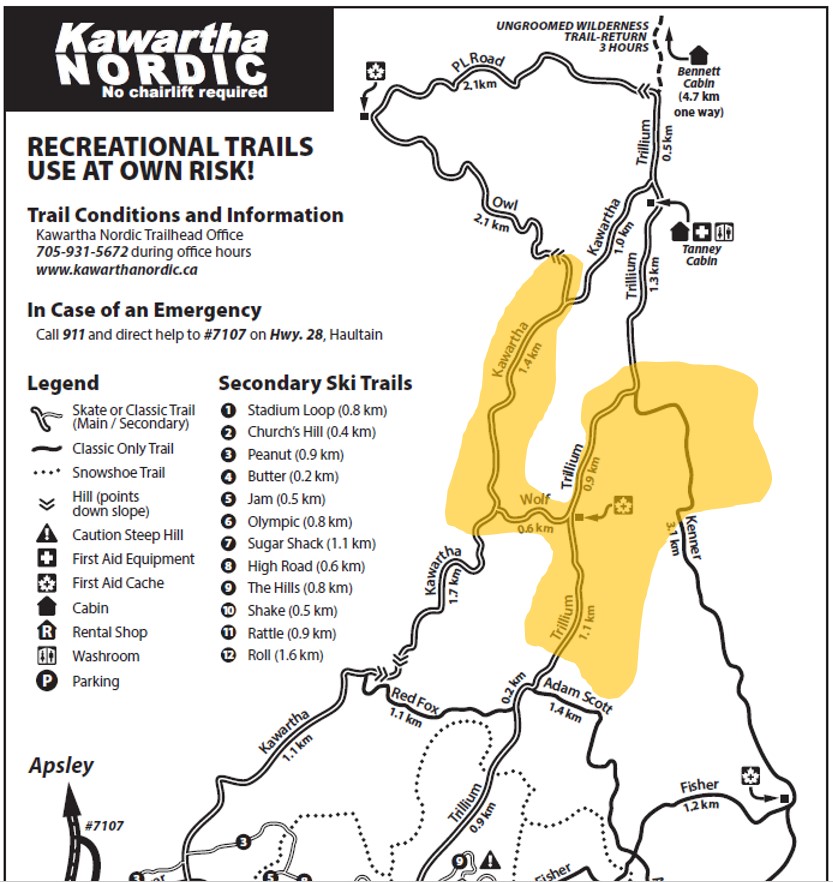 Thank you for your patience, as we coordinate all the details, volunteers, and legislative requirements for our Youth Skill Development Programs.
We are going to go ahead with starting the Jackrabbit, Bunnyrabbit, Track Attack, & Jack Attack programs this Saturday, Feb 20!
Our program will span 4 weeks on Saturdays 20-Feb, 27-Feb, 6-Mar, & 13-Mar.
** Note: due to the Peterborough Public Health moving to the Control (Red) zone, our final session on March 13 is cancelled.
Please take a moment to review a few reminders:
Morning sessions are 10am-noon, except for Bunnyrabbits which are 10am-11am
Afternoon sessions are 1-3pm, except for Bunnyrabbits which are 1-2pm
No buildings will be available, and no snacks/drinks will be served
Sessions may be cancelled due to weather or unsafe ski conditions, or changing pandemic expectations
Please complete the COVID Screening questionnaire with your child before travelling to KN each Saturday
Please ensure your child has gone to the bathroom before joining their group
Skiers will need extra gloves, in case they become contaminated with bodily fluids
All groups need to be kept small and separate, so please drop-off/pick-up your child and quickly move away to make room for other parents to do the same. This will necessitate ensuring each child's equipment is on and they are ready to go, before you approach your child's group
Everyone joining a group or doing a drop-off/pick-up must be masked at that time
To keep groups small, and other groups from forming, please do not linger or socialize in the stadium area before, after, or during sessions
Finally, please review our KN Safe Return-to-Sport plan with your child, so they understand the details of all expectations
read more
We are looking for 3 dynamic and experienced individuals to lead each of our Bunnyrabbit, Jackrabbit, and Track Attack programs. The role isn't much different than our standard program coach, but you would be willing to mentor newer coaches, by answering questions and helping other coaches design their daily program. The Communications & Volunteer Coordinator would be handling many of the logistics around our programs, such as group assignments, registration, and volunteer coach recruitment, allowing the lead coaches to focus on the program, the other coaches, and the athletes.
Check out the full Lead Coach job description for more details.
KN is still looking to also fill the following positions: