Would you like to join the Kawartha Nordic team?! We're hiring a part-time day lodge attendant for weekends throughout the winter. Please see the job notice for details and email Contact@kawarthanordic.ca for more information or to apply.
The Annual General Meeting of the members of the KAWARTHA NORDIC SKI CLUB, INCORPORATED will be held on Monday November 11, 2019 from 7:00 pm to 8:00 pm. In addition to the electing our directors and receiving the annual and financial report, come on out to hear about the Kawartha Nordic Strategic Plan.
Nominations for Directors may be made in writing and filed with the Secretary seven (7) days prior to the Annual General Meeting. All members in good standing, 16 years or over, are eligible to vote. Nominations may be sent to Kawartha Nordic Ski Club Inc., PO Box 1371, Peterborough ON, K9J 7H6 or membership@kawarthanordic.ca.
Location: Thomas A. Stewart Secondary School, Cafeteria (1009 Armour Rd, Peterborough) (this location is fully accessible)
Date: Monday, November 11, 2019
Time: 7:00pm
Bookings for school group visits to Kawartha Nordic are now open for this winter. Please visit the School Groups page for details and to book your visit online.
Membership and youth program registration will open on October 1st... follow Facebook, Twitter, or our website for details of online registration. Past members will also receive an email with all of the details you need to know to get signed up for this coming ski season.
Registration is completed online using our partner Zone4. Starting October 1, follow the links on the membership or youth programs pages.
Please note that there is no hiking or biking on the Kawartha Nordic trails during the summer off-season. Volunteers that would like to access the trails or chalet for maintenance can contact membership@kawarthanordic.ca. Have a great summer and see you next ski season!
Your Presence Is Requested
Who: club members, volunteers, employees and friends
What: Kawartha Nordic End Of Season Party/Fundraiser Trivia Night. $10/Person, 3-4 Persons/Team
Where: Canoe and Paddle Pub, Lakefield Ontario
When: Monday April 8th 2019, 7pm - 9pm
Why: Because we are a not-for-profit cross-country ski club that is totally awesome. So, put on your thinking cap and come out for some end of season banter, trivia fun and of course, prizes. (Proceeds go to the club we all love)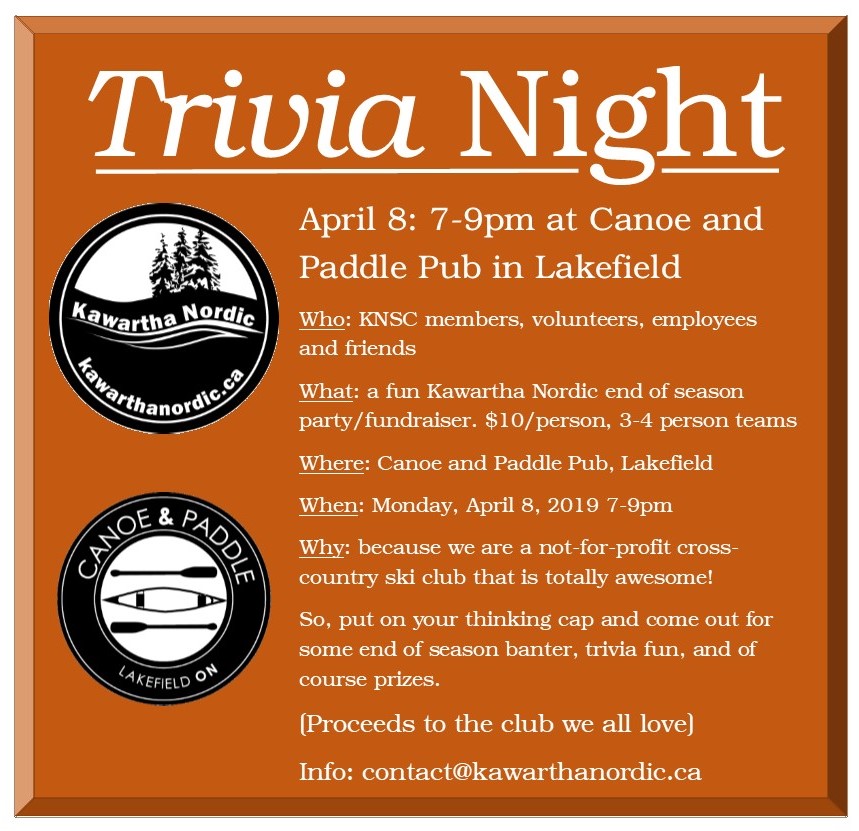 Thank you to all our hearty volunteers and athletes that braved the ice, torrential rain, thunder and lightning to support or compete in this year's Kawartha Nordic Skiathlon. The weather cleared up in time for the start, and Dave Woodfine was able to set some unexpectedly great trail conditions.
Online results with lap times are now available.
Congratulations to everyone.
The high school COSSA and CISAA Nordic Ski Championships has been re-located to Lakefield College School for Wed 20-Feb-2019.