On March 7 at 1:30pm, come on a discovery hike with Camp Kawartha's own Jacob Rodenburg along the 1 km. snowshoe trail to the sweet Sugar Shack. Jacob has been teaching outdoor education for 30 years and has received many awards for his work. He is passionate about exploring nature! Enjoy a few game activities with Jacob, and a guided hike to look for tracks, animals and hidden marvels.
When we get to the Sugar Shack you can enjoy some real maple syrup poured on snow to make candy. Watch the birds and return at your own pace!
Best suited for ages 7 and up. There is no charge for this event however a snowshoe pass or membership is required to attend. Drop into the rental shop to pick up your passes and snowshoe rentals.
Have you always been curious about the fabled Bennett Cabin?
Would you like to make your first trip there with a larger group who know the way?
Perhaps you've been many times but would like to know that others appreciate this part of the Kawartha Nordic experience?
Join us on Saturday, February 29th for a group ski to the Bennett Cabin. A hot lunch and drinks will be provided at the cabin, so all you have to bring are your classic skis and personal gear.
Meet us at the main parking lot at 9:00 a.m. or at the Bennett trailhead at the top of Trillium at 9:45 a.m. and be prepared for an all-day ski (20km round trip).
This year's Double Double is on Sunday, March 1 (or Medium Regular or whatever you make it). Come on out!
Be sure to sign-up when you arrive in the lower level of the Woodfine chalet (no cost)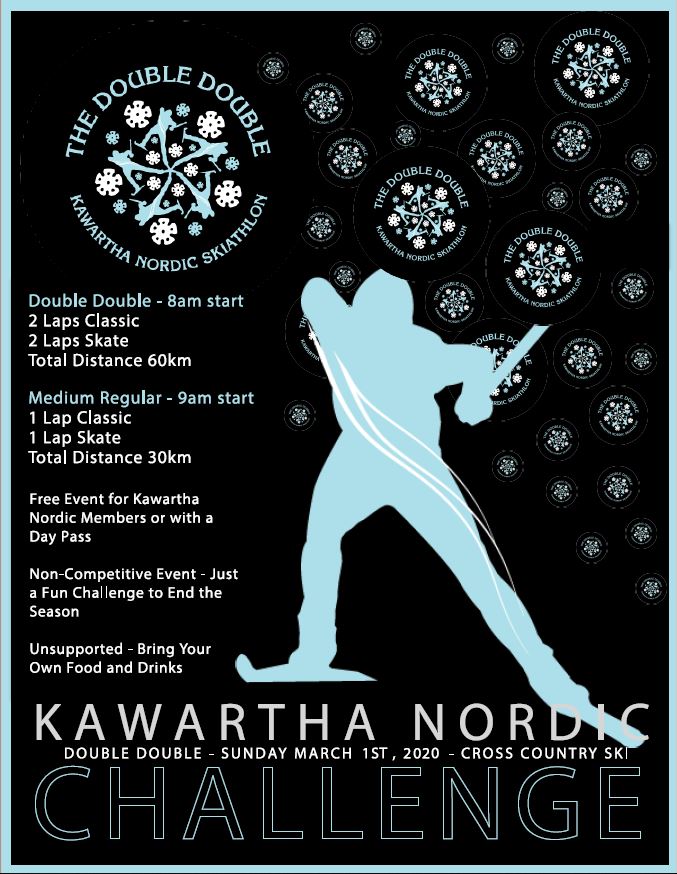 Congratulations to all our competitors and thank you to the great volunteers that made this event possible.
The full results with split times are available on zone4.ca
Sunday, February 2, 10 am - 12:30 pm - Nature Hike with Drew Monkman
Join Drew Monkman from the Peterborough Field Naturalists for a hike along the snowshoe trail to learn more about local wildlife and other winter nature phenomenon. Kawartha Nordic is co-hosting this event with the Peterborough Field Naturalists. We will be meeting at the Rental Trailer at 10 am.
Our leader, Drew Monkman, naturalist and author, will increase our appreciation of nature by pointing out details that often go unnoticed. We'll look for animal signs such as tracks, see what birds are about and learn how to identify some of the trees in this beautiful landscape. Snowshoes can be rented from the rental shop for $10.00. Dress warmly as there will be frequent stops to look at what we find. Bring binoculars if you have them!
Accessibility: Easy to moderate for people with good mobility
*** New date *** A group ski to Tanney Cabin to help orient new members and visitors to the trails and facilities. Join us for a leisurely ski and learn about what the club has to offer. Open to all skiers including members and non-members who want to learn more about Kawartha Nordic!
Meet in front of the Woodfine Chalet at 10am on Sunday, January 26. Please bring water and a snack and your own equipment (or rent equipment from the Kawartha Nordic rental shop).
Classic and skate ski lessons will be offered on Sundays in January and February. Is it time to hone up your skills? Then join a group ski lesson this winter! Book your lesson online or contact us at (705) 931-5672 or knscinstructor@gmaill.com for information on private lessons.
Fat biking: just a fad or here to stay? We are conducting a fat biking test this Sunday, December 22. The bikes will be ridden on closed trails and closely monitored to see what kind of impact they have on the trails. Stay tuned as we learn more! Want to join us? Meet at Woodfine chalet at 10:30am or Email or call the rental shop contact@kawarthanordic.ca (705) 931-5672.
Update: The fat biking test day turned out to be quite fun. When the temperature was below zero, tire tracks were not very noticeable on the snow, and seems to be a nice option when the trail conditions aren't great for skiing. There is still a lot to discuss to make this sport work at the club (including insurance issues) so please stay tuned as we work it out!